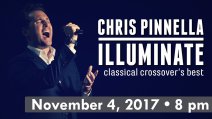 Chris Pinnella: Illuminate
Saturday, November 4, 2017
An Evening of Classical Crossover's Best
Powerhouse vocalist Chris Pinnella presents an evening of classical crossover's best featuring some of the most powerful, melodic, & inspiring songs ever written.
Performances
Saturday, November 4
8:00pm
Tickets
Premium: $40 (Adult), $37 (Senior), $31 (Student)
Regular: $32 (Adult), $29 (Senior), $23 (Student)
Group Rates Available: Learn More
New: Please Note That Advertised Prices Include All Per Ticket Fees
Event Information
Running time: Approximately 2 hours
Intermission: Yes
Synopsis
Algonquin Arts Theatre presents nationally acclaimed vocalist Chris Pinnella (Trans-Siberian Orchestra, Julie Andrews) as he debuts, 'Illuminate: An Evening of Classical Crossover's Best' featuring some of the most powerful, melodic, and inspiring songs ever written.
The night will boast a 14-piece orchestra and showcase stunning new arrangement's by Pinnella and Broadway Musical Director/Composer, Justin Hornback (currently the associate conductor of Hello Dolly on Broadway).
Pushing the parameters of the classical crossover genre, Pinnella's audience are likely to hear beautiful new arrangements of timeless classics such as, 'Caruso', 'Cinema Paradiso' and 'La Vie En Rose,' followed up by a gospel arrangement of Bruce Springsteen's, 'If I Should Fall Behind' complete with back-up singers. Or merging classic with contemporary, a lush string quartet arrangement of 'Danny Boy' that segues effortlessly into Billy Joel's 'And So It Goes'. Classics by The Righteous Brothers, Jimmy Webb, The Who, & the Leonard Cohen masterpiece 'Hallelujah' will also be on the evening's bill.
'Essentially we are merging classical crossover and infusing it with elements of rock, soul, jazz, and pop.' Pinnella says. Don't be surprised to hear the singer's lead violinist, Amanda Lo, who was recorded and performed with the likes of Rhianna, Harry Connick Jr., Paul Simon, Goldfrapp, & more, rock out to an instrumental of Led Zeppelin or Pink Floyd, mid-show. Also, as an added bonus, special guest singers as well as a 20-person student choir will be joining Pinnella and his musicians the night of the show.
'I want to make the genre accessible to people that may have thought it's not their style. This show will absolutely satisfy the classical crossover fan but also people who are fans of classic rock, jazz, pop, and more. Visually and sonically, 'Illuminate' will have the appearance of a rock concert with LED intelligent lighting and top notch sound production. I am also thrilled that we will be debuting two Original Songs at this this concert, which something I've never done before.'
Don't miss this one-night only concert!
'Pinnella has been compared to vocal superstars Josh Groban and Michael Buble, but there is no doubt about the fact that Pinnella has a style that is completely his own. Every time he takes the stage he proves that he's one of the strongest forces in the classical crossover realm. His strikingly rich baritone and stage charisma is unmatched.' (Ticketmaster)
Description of Illuminate updated by Chris Pinnella on 10/9/18.
Credits
Presented by Algonquin Arts Theatre
Sponsors
Eliot & Lorene Colon