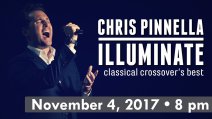 Chris Pinnella: Illuminate
Saturday, November 4, 2017
An Evening of Classical Crossover's Best
Powerhouse vocalist Chris Pinnella presents an evening of classical crossover's best featuring some of the most powerful, melodic, & inspiring songs ever written.
Performances
Saturday, November 4
8:00pm
Tickets
Premium: $40 (Adult), $37 (Senior), $31 (Student)
Regular: $32 (Adult), $29 (Senior), $23 (Student)
Group Rates Available: Learn More
New: Please Note That Advertised Prices Include All Per Ticket Fees
Event Information
Running time: Approximately 2 hours
Intermission: Yes
Synopsis
The night will boast a 12-Piece Orchestra with Choir & Showcase Stunning New Arrangements of songs by: Josh Groban, Andrea Bocelli, Amy Winehouse, Roy Orbison, The Righteous Brothers, & More. Crossover favorites such as Cinema Paradiso, Un Dia Llegara, & Edith Piaf's Hymne a L'Amour will also be part of the setlist in addition to special guest singers, which will be announced closer to the date of the concert.
"I am excited to be debuting this all new concert, exclusively at Algonquin Arts. This collection of songs are some of my personal favorites," Pinnella says. "There's going to be contemporary hits, incredible instrumentals & beautiful ballads mixed in with crossover classics that will both move and inspire you."
About Chris Pinnella
With numerous professional credits from National Tours, off-Broadway & regional theatre to recordings and concert appearances worldwide with the platinum selling Trans-Siberian Orchestra. Baritone Chris Pinnella has worked alongside icon Julie Andrews in collaboration with Emmy & Oscar Winning arranger & composer Ian Fraser as well as NYC composer John Bucchino. As a solo artist Chris has headlined twice now at Feinstein's/54 Below in NYC, most recently performing alongside acclaimed vocalist Chloe Lowery (Chris Botti, Yanni) featuring an eight-piece orchestra. Other NYC venues include: The Grand Ballroom at the Plaza Hotel, The Appel Room at Jazz! At Lincoln Center, The Rainbow Room, The Explorers Club, The Duplex, & Birdland. He has four times sold-out the Algonquin Arts Theatre in Manasquan, NJ, as well as twice sold out the Axelrod PAC in Deal, NJ, and regularly plays to packed houses at TIm McLoone's Supper Club in Asbury Park. Pinnella has been a guest soloist with the Orchestra of St. Peter for the past 10 years. He continues his solo career with concerts booked throughout the country.
Credits
Presented by Algonquin Arts Theatre
Sponsors
Eliot & Lorene Colon